Barcelona are the team of the moment.  Everyone is talking about them, and for good reason.  They are hands down the best team in the world right now and many people are making the case that they are one of the best teams of all time.  All this is based on the skill level of their players, the incredible teamwork, quick one and two-touch passing and the way they out play their opponents and dominate the time of possession.  It's no wonder they win so many games and score so many goals.
But there is one part of their game that doesn't get much attention, and yet it is critical in my view, and is the difference between them being a good team and a great team.  It is the difference between them winning games against the likes of Real Madrid and Man U and dominating possession or finding themselves in close fought battles…not to say that those games are not close fought battles, but take the Champions League Final against Man U.  It was as one-sided a game in the final that I can remember.  Or Saturday's game v Man U…Barcelona had 69% v 31% of the possession.
So what is this part of the game that really makes Barcelona special?  What is it that takes them to a higher level than Real Madrid, Man U, Chelsea, etc.?
High pressure team defending.
Watch Barcelona play and how they pressure their opponents.  It's incredible.  I have to say I have never seen it done so well by any other team in my lifetime.  Take a look at the Champions League Final.  Poor Man U could never get into their rhythm.  Every time they had the ball, they were under pressure instantly.  They had to make passes quicker than they were comfortable with.  This in turn forced them to play backwards or sidewards far too often or even worse, turn the ball over and lose possession.
A great example of this is the goal Barcelona scored against Man U in the pre-season friendly on Saturday.  Everyone raved about how Barcelona strung 10 passes together to score a great goal.  But what was missed in this was that Barcelona forced Man U to turn the ball over in their own half with some great high pressure team defending.
Barcelona v Man U
Carmona cuts in from the left looking for a shot but gets dispossessed just inside the penalty area.  The ball comes out to Giggs and Man U now have possession.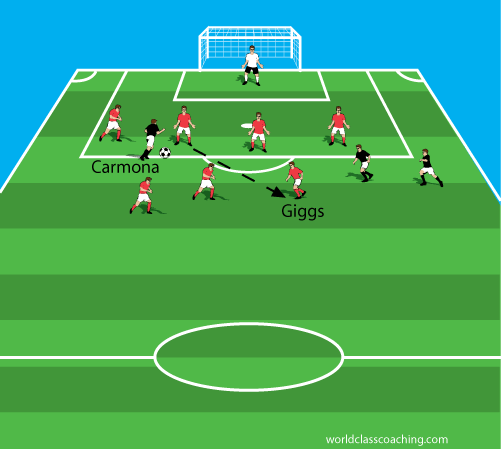 Giggs has time and plays the ball to Obertan.  But Barca put pressure on Obertan right away.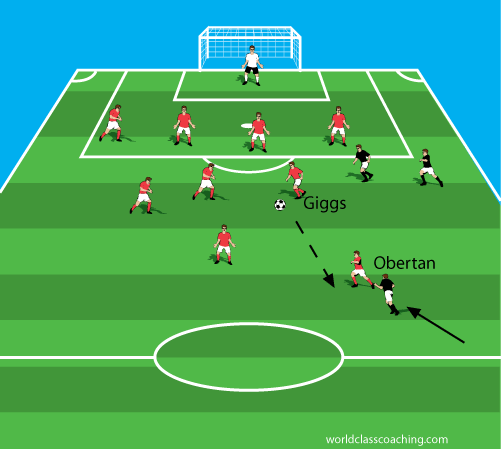 Obertan is forced to make a pass quicker than he would like and gives the ball to Owen.  It's actually a bad pass that is in the air and Owen has to work hard to control the ball.  Owen is also put under pressure right away from a Barca player.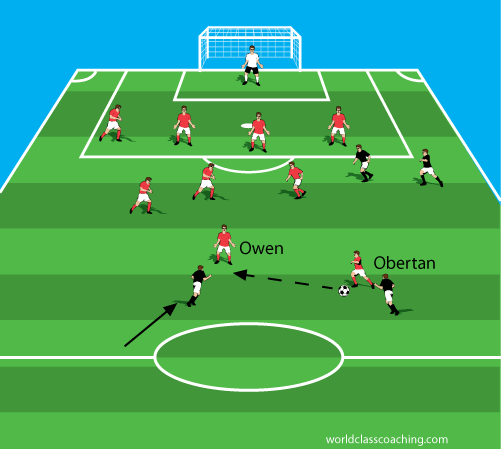 This forces Owen to turn toward his own goal to protect the ball.  However, Carmona (who lost possession initially for Barca) is tracking back and steals the ball from Owen.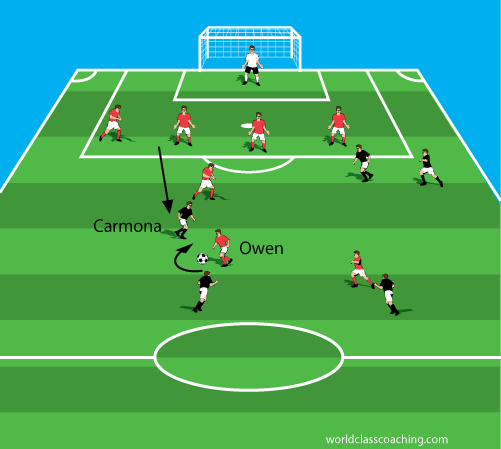 Carmona plays the ball to a teammate and 10 passes later a great goal is scored.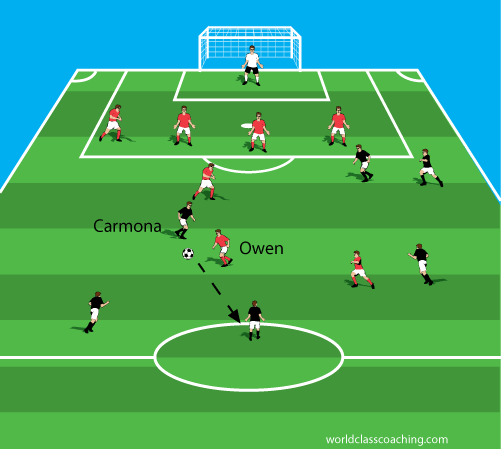 So yes, connecting 10 passes and scoring with a shot from outside the box is pretty awesome stuff against a team of the quality of Man U, but let's not forget, none of this would have happened if Barcelona had not pressured Man U into turning the ball over in their own half.
And although people rave about how much Barca always seem to have the advantage in possession (69% to 31% in this game), a big part of this advantage is because they keep forcing the opponents to turn the ball over.
It's a little secret that many coaches don't realize.  But add some of this to your training sessions and it will give you an advantage over your opponents.
Our High Pressure Team Defending DVD will give you some great ideas on this.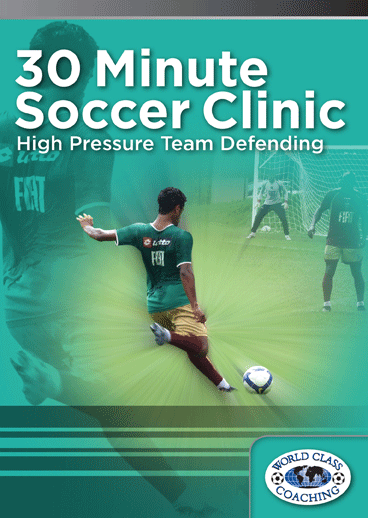 Have a great day,
Mike Saif