WORLD CLASS COACHING
ELITE TEAM CAMPS
Have Your Team Train Like The Pro's
Do you want to take your team to the next level?  Would you like your players to be trained using the same training sessions as
Real Madrid, Manchester United, Ajax, Brazil National Team, Chelsea, Juventus, etc.  Contact Mike Saif
at 913 583 0030 or mikesaif@worldclasscoaching.com for more information.
Competitive Teams Only
WORLD CLASS COACHING Team Camps are only for competitive, elite teams.  Although some sessions will be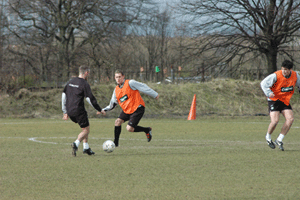 technically related, the week long camps will be tactical in nature and designed to improve how your team plays. Prior to the camp, we will discuss your teams' goals with you, the coach, and design a curriculum that will put you and your team on the road to achieving those goals.
Team Camps
WORLD CLASS COACHING will conduct a one-week day camp with your team.  We will design a one-week training program
consisting of the same training sessions, drills and exercises used by the world's top coaches and clubs.  We will then
conduct those training sessions with your team for one week during the summer at your location.  This will give you and
your team an insight as to how the pro's train.  We will leave you with a team of players motivated to work and learn the
things that made Kaka, Beckham, Henry, Rooney and Ronaldo into the world's top players.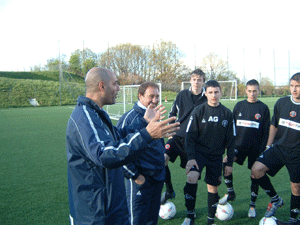 Coaching Staff
Only top level coaches from professional clubs the UK will be used to coach your team during the week long camp.  Our coaching staff includes only coaches that coach at Academies in professional teams.

Camp Options
Camps are tailored to suit your team needs.  Typical options are:
Morning 9.00 am – 11.30 am
Evening  6.00 pm – 8.30 pm
All Day  9.00 am – 3.00 pm
Overnight/Residential Camps
Typical One-Week Training Schedule
Below is a typical schedule for a three-hour day camp.  Please be aware that the curriculum for your team will be designed especially for you and the needs of your team.  For instance, it can be tailored to a 4 – 4 – 2 or other formation.  Or if you feel your team needs work on defending, we will have a special focus on that or any other need.  If you prefer to do a full-day camp, we will adjust the schedule accordingly to include afternoon sessions.
Monday
9.00 Brazilian Warm-Up
9.25 Liverpool F.C. Shooting Drills
10.30 Juventus F.C. Small-Sided Shooting Game
11.30 Scrimmage
Tuesday
9.00 Arsenal Warm-Up
9.25 Ajax Passing and Possession Drills
10.25 PSV Eindhoven Possession Combinations
11.30 Boca Juniors Possession Scrimmage
Wednesday
9.00 Liverpool Fast-Feet Warm-Up
9.25 Manchester United Defending Drills
10.30 Juventus F.C. Defending As A Team
11.30 Dutch National Team Scrimmage
Thursday
9.00 Dutch Passing Warm-Up
9.25 West Ham United Breaking Out Of Defense
10.30 Brazilian Youth Team Playing Through Midfield
11.30 Brazilian Possession Scrimmage
Friday
9.00 U.S. National Team Warm-Up
9.25 Manchester United Crossing Drills
10.30 Chelsea Attacking Combinations
11.30 Scrimmage
Cost and Availability
All camps will be arranged and tailored on an individual basis.  Contact Mike Saif at (913) 583-0030 or mikesaif@worldclasscoaching.com for more information.