A recent article was mentioned on our Kansas City Soccer Forum. It discusses a recent Princeton, NJ School Board decision that would require soccer players (as well as field hockey and lacrosse players) to wear a protective soft helmets in order to diminish the chances of suffering a concussion. I've seen this topic come up from time to time but this is the first time I've heard of a school district attempting to mandate the use of headgear for soccer.
The headgear they are planning to use is the SG360 by HRP Products.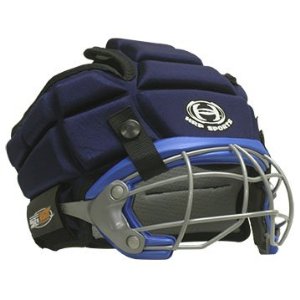 This is largest headgear I've seen being used for soccer. Other protective headgear on the market includes the Full 90 and ForceField. They are much smaller and don't include any eye protection.
"We're very aware that for players in all sports there's a risk of head injuries and we're just trying to do whatever we can to prevent them," said Timothy Quinn, president of the Princeton school board.
My question has always been, "Do these helmets protect against a concussion." Pediatric neurosurgeon Alexander Post from the New Jersey Pediatric Neuroscience Institute in Morristown has given numerous lectures on concussions and said he does not believe that the proposed headgear would even be effective in reducing the risk.
"You can get a concussion from pretty much doing anything," he said. "Any activity carries a certain degree of potential risk and you have to weigh that risk. In general, the headgear is good for reducing abrasions and lacerations, but not for protecting against concussions to any significant degree."
Barbara Greiger-Parker, the president of the Brain Injury Alliance of New Jersey, told NJ.com that she wasn't aware of any scientific studies that prove that these particular helmets actually reduce concussion risk, and Robb Rehberg, the athletic trainer at the Center for Concussion Care in Summit, N.J., expressed concern that the new headgear might encourage more physicality on the field.
"Adding headgear could potentially give athletes a false sense of protection that would make them play more aggressively," Robb Rehberg, the athletic trainer at the Center for Concussion Care at Overlook Medical Center in Summit, said.
So not only is there no evidence that headgear protects the wearer from a concussion but it could actually cause more injuries because someone wearing a soft helmet feels so protected that they become more aggressive than they would otherwise.
I'm aware that the risk of concussions is a concern. There are now tests that players can take before the season that will provide a baseline assessment that can be used as a guide if the player receives a concussion. Taking the test after the injury shows when the player has recovered and is able to return to competition. I'm in favor of action that would reduce the risk of injury but a soft helmet does not accomplish this.
At the end of the day, we can expect to remove all risk from participating in sports. I think it's important to teach proper technique and that will help reduce the risk more than a bit of foam and fabric.
What do you think? Should our young players be required to wear headgear? Please share your thoughts in the comments section below.
Have a great day!
Tom