When I start coaching a new team I try to schedule a four day camp before our normal training schedule begins. Having four straight days with the team allows us all to get to know each other and lets me see what kind of players I'll be working with.
The sessions I present depend on the age and level of experience of the players. This year I started coaching a U12 girls team so the examples I give here will be based on that age group. They are a very competitive group of girls that have all played at a high level locally so I also take that into consideration while planning the sessions.
Regardless of the age group I like to start out the first day with some fun, soccer related games to get the players engaged and having fun. The games I choose also give me an opportunity to establish  some common themes and language that I will refer back to over and over throughout the season.
The one I start with is game often, 'Pirates in the Sea'.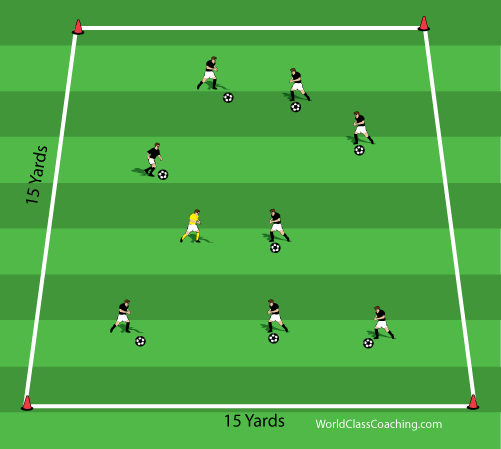 I'll usually start this by just having everyone dribble in the space and focus on good touches that keep the ball close and under control.
After warming up a bit I make one player is 'IT' while the other players are dribbling. The 'IT' player tries to kick everyone's ball out. The last player left gets to be 'IT' the next round.
This kind of game gives me a chance to see how the players control the ball and move with it. I talk about keeping the ball away from pressure and protecting it.
From there I'll usually transition to a game that I call 'Gladiators'.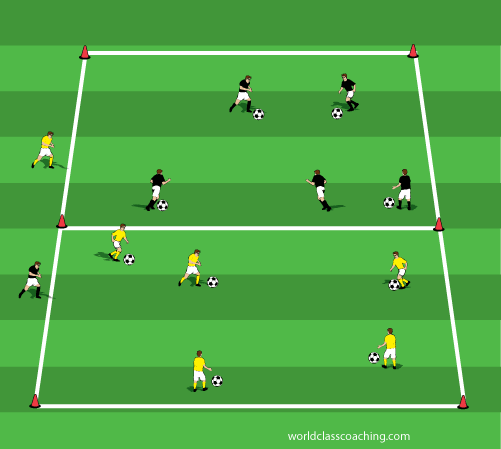 It's very similar to the previous game but now when the players lose their ball they stay in the game and support their team mates. So the game goes from individual possession to a game of keep away. There's a ton that can be coached here depending on the ability of the players. I tend to focus on how to support their team mate. Making sure that the player with the ball has a pass to the right, left and a split if possible.
There is so much decision making in this game that it's a great opportunity to see how much your players understand about key elements of the game. But mostly they just think it's fun.
Each day I try to include a shooting exercise. For this team I did a simple two-line shooting drill.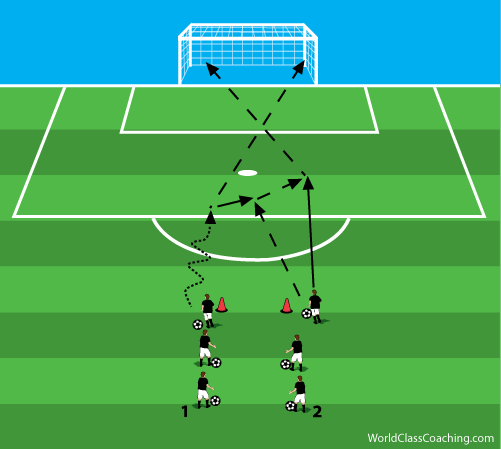 The first player in line 1 dribbles and shoots. She then turns to lay off a pass from the first player in line 2. The players get their ball and switch lines.
It's a simple pattern but it gives me a chance to see how they strike a ball. It's also an exercise where they have to think about the next thing after taking a shot. This is something we will build on throughout the season.
I end the sessions with a fairly long game. The player enjoy this and it gives me a chance to see how the players work together. The first session I will have all the players in one large game.
The second day of preseason I usually devote to individual and small group (2v2 to 4v4) defending. Here I'm able to define the correct techniques for pressuring a player with the ball and what is expected of the covering player.
On the third day I like to do passing and possession to get the players working and moving together. With this team I started with a simple pass and follow exercise.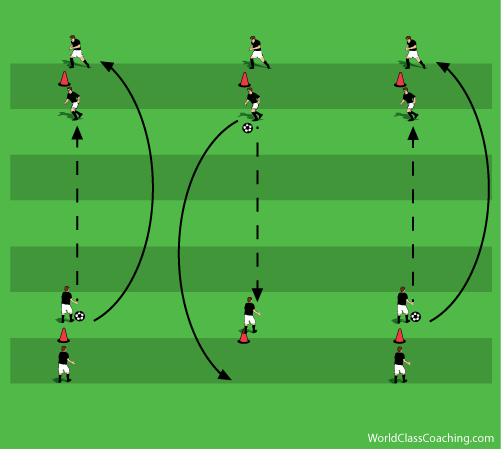 Then we moved to a diamond passing pattern.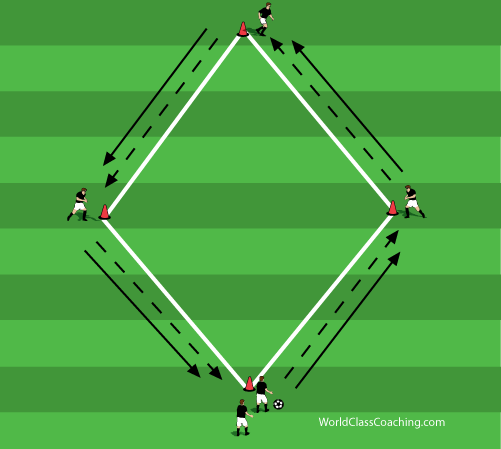 Then we put that into a 4 v 2 keep away game before playing a large group possession game.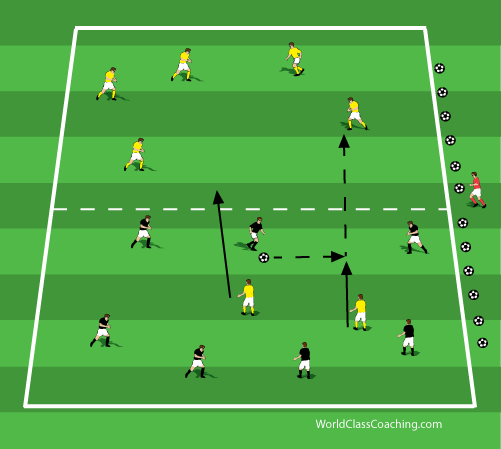 This is great progress game because each time the team makes a certain number of passes the other team gets to add a defender. It also has a transitional element that keeps the game moving so it's great fitness work.
The shooting exercise for the day continued with the diamond theme.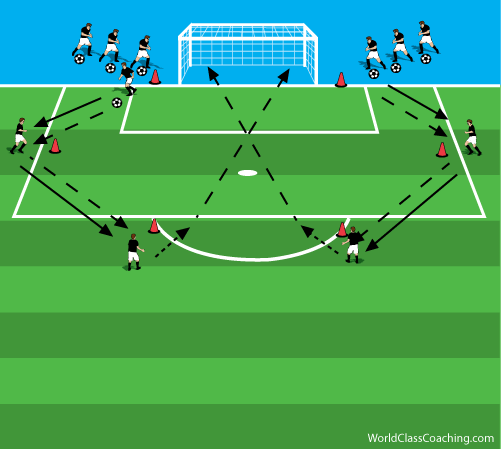 We finished with a 4 v 4 tournament.
The final day is all about competitive games. We do everything from 1 v 1 to 8 v 8 with various rules and restrictions to bring out different aspects of the topics we've covered throughout the week.
There are obviously a lot of topics that we didn't cover. I will sometime substitute 1 v 1 moves and skills for the passing an possession day depending on the group of players that I have. But we will spend a lot of time on those once the season begins so I usually don't cover them in preseason.
Are there certain things that you like to cover in preseason? Would you suggest anything different from what I've described? Please share your thoughts in the comments section below.
Have a great day!
Tom