We've recently released the third edition of our books on Coaching Team Shape. The first one covered the 3-3-1 for playing small-sided games. The second in the series looks at  the 4-2-3-1. This edition focuses on the 4-3-3 formation.
Coaching Team Shape in the 4-3-3 shows you how to give players the positional discipline they may be lacking with grid based training. Not only do grids force players to maintain team shape, but it also helps to improve their decision making, passing angles and gives them a deeper understanding of how to move the ball quickly up the pitch.
This excerpt of the book covers the movements of the central midfielders and striker.
Central Midfielders & Central Striker
The reason we will look at the central striker and the central midfield together is that the striker takes their position from the movement of the midfield. They should work by moving in a rotation to create angles for each other and cause headaches for the opposition. We will look at their movement depending on which area of the field the ball is in.
When the Defensive Midfielder has Possession Deep:
The most important factor for the 3 midfielders and CST is to work together and be a successful unit by rotating to constantly make diamonds with their movement and positioning. This gives passing options at different angles and depths to penetrate the opposition's lines. The CST takes their position off the CM's.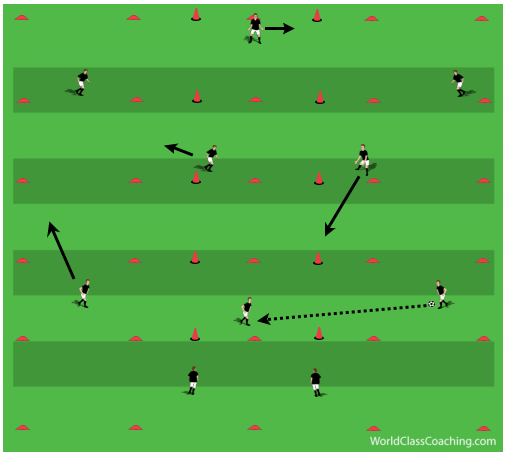 Continue reading 'Coaching Team Shape in the 4-3-3' »